A Full Lawn Service Company in Plainfield, IL
We offer a full range of maintenance services in the Plainfield area that includes weekly lawn mowing, trimming, edging, mulching, seeding, fertilizer, weed control, turf aeration, grass detaching, sod installation, turf repair, draining, spring and fall clean-ups.
Working with Local Residential and Commercial Clients
By hiring our company, you can be assured we are one of the best lawn care companies in Plainfield and surrounding towns, including Plainfield, Aurora, Naperville, and Batavia. Our expert team has over 10 years of experience working with both, residential and commercial clients.
We also offer a full range of landscaping services, including pavers, patios, retaining walls, flower bed design, concrete work, irrigation, bobcat work, brickwork, mailboxes, and built-in grills.
Plainfield Lawn Mowing Service
Our weekly lawn mowing service in Plainfield and other surrounding areas includes mowing, trimming the sidewalks and driveway, and blowing all grass clippings from curbs, walks, driveways, and patios to give your lawn a polished finished appearance. Our professional crews show on the same day, around the same time each week.
Mowing service details
Our weekly lawn mowing service in Plainfield and other surrounding areas includes cutting the lawn, trimming areas inaccessible to mowing equipment, and blowing all grass clippings from curbs, sidewalks, driveways and patios to give your lawn a polished finished appearance.
Our professional crews show on the same day, around the same time each week. We mow the lawn between 2.5 and 3.5 inches. Our mowing equipment is maintained on a regular basis to provide our clients with the best lawn services.
Affordable Lawn Care Services
When you take care of your lawn on a weekly basis, your lawn's appearance will not only improve, but it increases your home's curb appeal – Let us help you with all your lawn cutting needs. Our lawn care prices are competitive and affordable. Our company is fully licensed and insured to operate in Plainfield and the state of Illinois.
Lawn Clean Up Services
Yard clean ups are an essential part of your lawn maintenance regime. Not only they provide clean and pleasant outdoor aesthetics, but they also help to avoid lawn disease, including turf fungus.
Spring clean ups
Spring clean-ups may include depending on your request, the following services: picking up leaves, tree branches, and garden debris from the lawn, re-edging and cleaning flower beds, mulching, cutting the grass, pruning, trimming, core aeration, fertilizer, and overseeding.
Fall clean ups
Fall clean-ups prepare your lawn for the winter season in the Plainfield area, and may they include, winterizer application, perennial cut down, trimming, pruning, lawn aeration, seeding, leaf pick up and disposal.
Lawn Fertilizer
Have you ever seen a lush green lawn and wonder how it got like that? Well, the secret is proper and regular lawn maintenance. Not only does your grass needs regular mowing, but frequent lawn feedings also. Picking the best fertilizer for your lawn can leave you confused about the hardware aisle. You can be sure that our crew is knowledgeable about the correct fertilizer to use on your turf.
We offer regular fertilizer applications for our residential and commercial clients in Plainfield, IL, throughout the growing season. Our fertilizer treatments are bundled together with weed control, fungus control, and turf disease control. Here in the Midwest, we would recommend that your lawn is treated every 4 – 6 weeks, by speaking to one of the professionals in our crews they will be able to tell you how often your grass should be treated.
Lawn Aeration
Depending on when you last treated your lawn, you could start with aerating it at least once a season. Aerating the grass allows it to "breath" and that also enables air, water, and nutrients to seep into the core.
Core aeration in Plainfield is offered during the spring and fall season when temperatures are cooler so that the grass is not put under stress. We highly recommend to overseed and fertilize the lawn after aeration for best results.
Lawn Dethatching
If you notice your lawn feels spongy, with brown areas, and layers of dead grass underneath, you could have a thatch problem. Lawn dethatching is the mechanical process of raking/removing the layer of brown, dead grass in your lawn, which provides no value to the overall health of your grass. It makes it unhealthy, susceptible to diseases and pests.
Our lawn care process for dethatching is to rake the dead grass, collect the resulted debris, and dispose it from the property.
Recommendations after aeration and dethatching lawn service
After lawn renovation, including aeration and dethatching, we recommend to overseed and fertilize to ensure you are giving your lawn a fresh new start. Finishing the lawn renovation process by spreading compost (top dressing), and you could almost guarantee that your lawn will be one of the best ones on the block.
Mulching Service in Plainfield, IL
Mulch offers not only a sophisticated look to your home, but it also provides some great benefits to your trees, shrubs, and plants. Mulch helps to reduce weeds and improves water absorption and retention.
Choose from a variety of colors and bark choices, a choice that can complement your home's curb appeal. Here at GTZ lawn and landscaping services in Plainfield, we offer red dyed mulch, chocolate mulch, hardwood premium mulch, black dyed mulch, cypress mulch, brown dyed mulch, and other colors and types.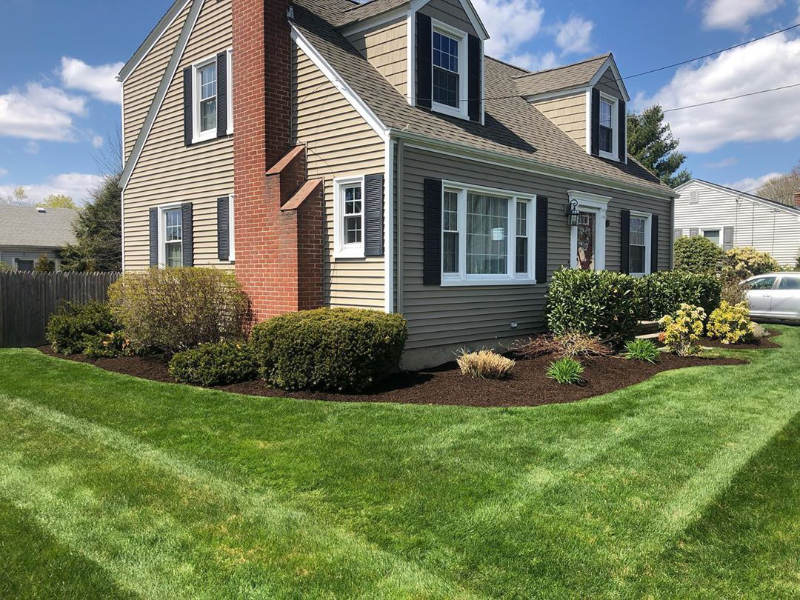 Our crew can evaluate your lawn and formulate a maintenance or repair plan. Our estimates are detailed so that you can make the best decision to ensure you are getting the best lawn care services in Plainfield, IL.